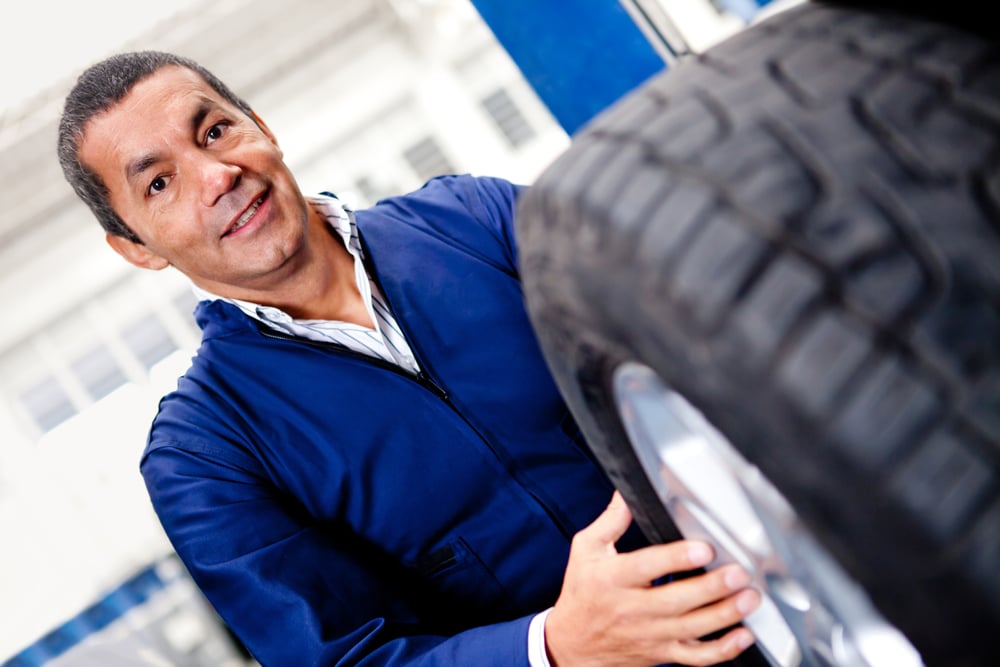 Despite positive projections for the tire industry your tire shop sales will ultimately depend on the economic recovery and consumer demands. The industry is growing at 4.6% annual growth rate until 2026, but your tire shop can grow faster if you have a few simple tricks up your sleeve. The easiest thing you and your staff can do is to have an upselling strategy in place to drive more sales.
You want to increase the average spend and boost your repeat customer rate, and we can help you do that. Here's a guide to effective upselling strategies for your tire shop:
Create a Sales Target
First things first: If you want to start beating the growth rate, you have to increase your sales target. But it shouldn't be a random projection, either. You have to consider previous purchase trends alongside industry projections. This will help you decide whether you should go for a conservative 10% increase or a more ambitious 25% target increase.
Here are other factors to consider when creating your sales target:
Ensuring sales targets align with company goals.
Evaluate the capability of your sales team and the interest of your audience
Finalize objectives, including customer numbers, churn rate, and revenue goals
Put the Spotlight on Your Bestsellers
You can never go wrong with recommending your best-selling products and your most in-demand services. Display them using attractive displays at your physical location and on your website's home page, to pique the interest of prospective customers.
On a related note, you don't want to dictate what your customers purchase. It would help to suggest alternative products and new services that are related to your bestsellers. This encourages them to explore your tire shop. It also helps with customer retention because your recommendations will give them the confidence that you know your stuff.
Additionally, consumers are more likely to trust customer reviews and peer recommendations than traditional advertising efforts. So, give them the assurance of your previous customers by sharing customer reviews on your website and other online platforms.
Provide Seasonal Promos and a Customer Loyalty Program
A mere 5% increase in customer retention can boost overall profit by 25% to 95%. For this reason, it's important for you to have a solid customer retention strategy in place. Keep your previous customers coming back to your tire shop by providing daily discounts and seasonal promos.
Another surefire way of retaining their interest is through a customer loyalty program that rewards them for every purchase from you. The rewards can come in the form of discounts, free products, and limited offers, depending on what your target audience is most interested in.
Establish a Buy Now Pay Later Option
It's one thing to promote your bestsellers and modify your sales target. It's another thing to ensure your leads and prospective customers actually make a tire purchase. You can give them that final, yet subtle, nudge they need by offering a Buy Now Pay later (BNPL) payment option.
BNPL breaks down purchases into multiple interest-free payments, so consumers can have more purchasing power for bulk orders and high-priced products and services. It allows you to upsell your premium products or services without hard selling.
Consider these reasons for establishing a BNPL payment option:
Consumers see the value in BNPL because they don't have to pay for products upfront. So, they are more compelled to buy from you
BNPL is convenient, easy to use, and interest-free. Previous customers who are satisfied with your products or services are likely to explore your tire shop and become loyal patrons if the BNPL payment option remains available for them
BNPL lets your tire shop get paid upfront. Meanwhile, the BNPL service provider takes care of payment reminders, late payments, and all things related to the payment installments. It's as convenient for you as it is to your customers
It's easy to integrate BNPL into your existing payment software system. You can simply add it as an alternate payment option without business disruptions
It's also worth noting that 48% of consumers spend up to 20% more on products and services when they use BNPL compared to credit card payments.
Still curious about Buy Now Pay Later and how it can help your tire shop? Get in touch!